The truly unique taste of Cuba today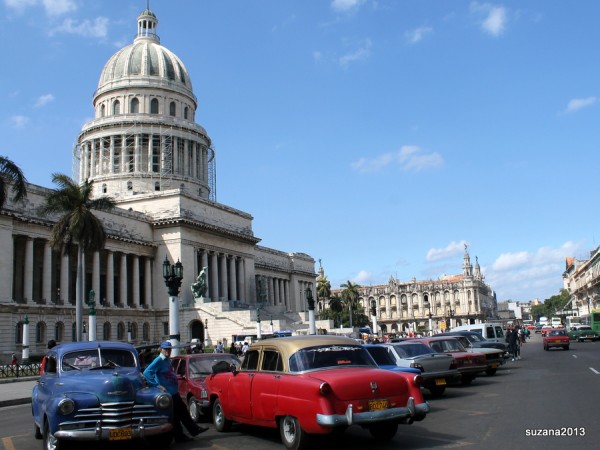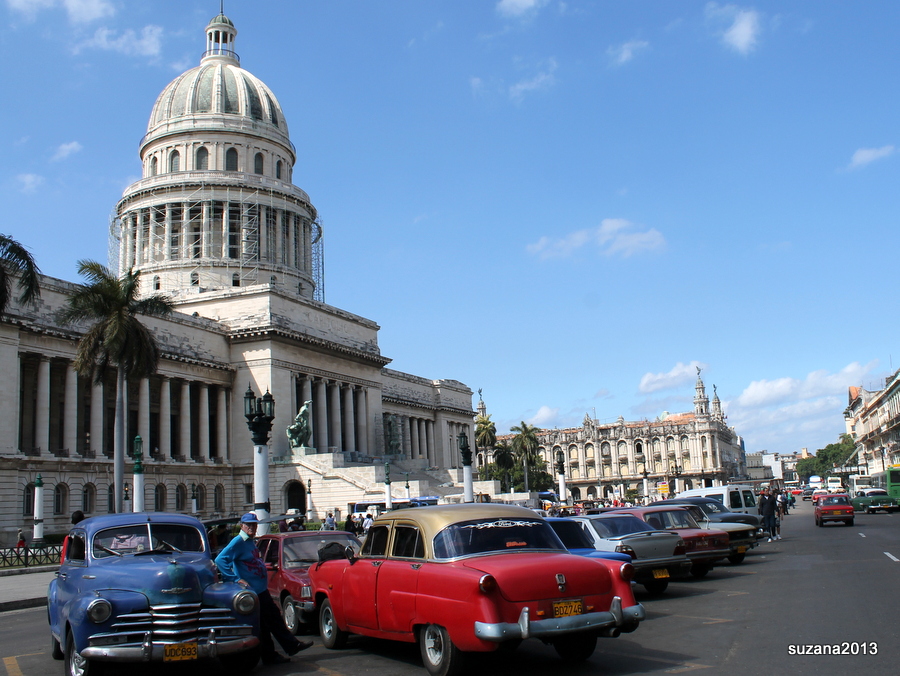 Starting in la Habana the old Spanish capital that has seen better days but has a romance of its own despite the revolution! The tour takes you next to the colonial town of Trinidad and a trip into its sugar plantation past. A relaxing day on an island beach follows, where you can sip a rum Collins or enjoy the under sea world  while getting your sun tan established! We move on to the traditional countryside town of Vinales, in Pinar del Rio where the campasinos offer you a taste of Tabacco and rum and a night of great dance music. Follow that with a day relaxing on an uninhabited island surrounded by seas of turquoise and blue. This could be paradise! All good things come to an end and we must head back to Havana and say our goodbyes .Why not have one last Mojito in the old city before jumping into a taxi to the airport?
If you have limited holiday time but you want to learn more about this extraordinary island and meet some local people this is the Cuban experience for you.
Warning! Once you have been to Cuba you will want to return!
TOUR ITINERARY "A CUBAN SNAPSHOT"
JOINING / ARRIVAL DAY 
Cuba's national tree, the Royal Palm, dots the landscape as you fly into Jose Marti International Airport on the outskirts of Havana City. Welcome to Cuba and your encompass holiday. Your tour leader or tour representative will be waiting ***to take you from here by taxi to your accommodation in La Habana viejo (Old Havana, which is a UNESCO World Heritage site)  Once all your questions have been answered there will  be time to enjoy a Cuba Libre in one of the many bars surrounding Plaza de Armas. Music seeps out onto the streets and the romance of the old city will charm and captivate you. Your holiday has begun!
DAY 1 – LA HABANA VIEJA / THE OLD CITY OF HAVANA
After breakfasting in your casa the day will be spent exploring this diverse city. Havana Cuba! the name alone conjures up a montage of images from pre revolutionary days of Hemmingway to " Viva Fidel" and "Long live Cuba Libre", Rum, Cigars, Sugar, Coffee, Rumba, Salsa, old American cars and a memorable mixture of colourful characters. Activities today including Hop on Hop off Bus Tour, entry to Museum of the Revolution or Museo de Bella Artes (Modern Art Gallery) and Tour of Partagas Cigar Factory.
For dinner you can choose to eat out or at home in your casa particular
DAY 2, 3 & 4 TRINIDAD
Today its an early start to catch our bus to Trinidad on the south Caribbean coast, but the countryside seen from the bus is reward in itself. We'll arrive in Trinidad with time to explore on foot before dinner and you might even have time to take a ride on a horse or arrange a dance class.
Trinidad is another UNESCO world heritage site and the town is preserved in its colonial style with cobbled streets and tiled roofs.  It's an enchanting location in a sugar growing area of the island with views out to sea. Our days here will include a Tour to an old sugar plantation "Valle de los Ingenios" in a steam train, (when its in working order, if not then a diesel engine)  The pace is slow.  You can climb the famous bell tower at "Manaca Iznaga" plantation or try a glass of sugarcane juice and imagine the life in the Spanish colonial days!
You'll have a day tour to one of the Cayos, (Cayo Blanco or Cayo Iguana depending on availability) and lunch is included in this tour. Snorkelling, swimming, sunbathing, perhaps a fruit cocktail or something stronger.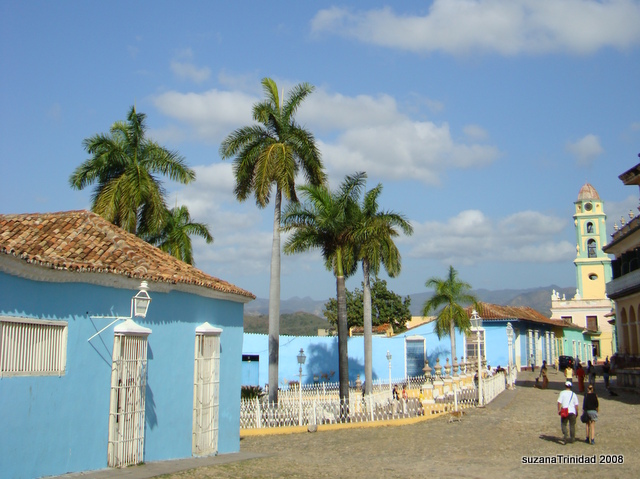 Your nights can be spent enjoying a variety of music, at the casa de Trova where ballads are played at the casa de musica on the steps of the church while sipping a long cool drink beneath the stars. There is a cultural show on offer most nights for a couple of pesos and well worth seeing the traditional dancing and drumming and if it's a disco you want there is famous one in a cave just out of the centre above the main plaza!!
Trinidad is an expanding and developing city due to tourism and restaurants are becoming abundant, you are spoilt for choice and don't forget your casas will be keen for you to taste some home cooking specialities.
DAY 5 & 6 VINALES
This morning we will need to be up early and catch our bus heading east to the rural town of Vinales.  Set among the tobacco plantations this area is a UNESCO world heritage "cultural landscape" and grows some of the best tobacco in the world. You will learn more about the agriculture during our afternoon's  Countryside walking tour. The landscape is unique in Cuba for its limestone haystack hills "magotes".   You can rent bicycles to explore on your own or visit the small but beautifully kept botanical garden.  We'll have a day tour to Cayo Jutias with lunch included. Music and dancing is available every night in the Casa de la Musica "Polo Montanez" for a few pesos. Musicians often set up in the plaza in front of the church or in small bars playing ballads and other local favourites.
Vinales has a growing selection of restaurants including a Vegetarian restaurant that also supplies meat dishes!You can organise dinner at your casa particular where your host will dish up her best or favourite dish or something typically Cubano.
DAY 7 –  HAVANA  
This morning we must return to the hustle and bustle of Havana having enjoyed a tasted a little of everything Cuba has to offer.  After our bus ride, we must say good bye! The week has flown by!
You might have time for a last Mojita in Havana Vieja before heading to the airport.
A taxi to the airport will cost you about £40.00
*** Encompass tour leader will be at the airport to meet the direct flight Virgin Atlantic from London Gatwick on the arrival day only. If you are arriving at any other time and need assistance please let us know. We will make sure you have details of the arrival process, and will help you in any way we can. 
Direct flights recommended from London "Gatwick" Airport  to Havanas "Jose Marti" Airport VIRGIN ATLANTIC
http://www.virgin-atlantic.com/en/gb/bookflightsandmore/index.jsp
(flight prices are quoted in US $)
Please read the destination recommendations and additional services guide below before arriving in Cuba!
ADDITIONAL SERVICES CUBA
Hotel and casa bookings for extra nights.
Taxi and or Escort to Airport for departure flight.
Help with flight bookings and onward travel.
Bespoke tours.
Tailormade holidays
Special interest holidays
"WHATS INCLUDED"
7 nights Home Stays + Public/Private transport
7 breakfasts included in casas.
Included tours

La Habana. 
Partagas Cigar Factory,
Museum of the Revolution or Museo de Bella Artes,
Hop on Hop off Bus Tour
Vinales. 
Countryside walking tour,
Day tour to Cayo Jutias
Trinidad. 
Train to Sugar Plantations Valle de los Ingenios,
Day tour to Cayo Iguana Macho or Cayo Blanco
ACCOMODATION CUBA  
"Casa particulars" these are private houses that have permission to rent out rooms to tourists a bit like a European Bed and Breakfast
Casas are government registered homes that can rent out a limited number of rooms to tourists. You will have a room and en suite or private bathroom.
You must show passport and Cuban visitors card and sign a registration document at each casa.
These homes are a most delightful way to stay in Cuba! You will get to know the families and eat some home cooking and its a direct way to help people who would otherwise be surviving on an average Cuban salary of $40US per month.
These houses are of above average quality as they have to meet certain criteria to be registered. The government takes a huge percentage of the price of the rooms ( about 60%) but this still gives the family money with which they can provide the extras you will see in their kitchens and furnishings in their homes.
Casas can earn a little extra money (un taxed by the government) by offering to provide meals, drinks and laundry. Your breakfast will be included in your tour price and will be served in your casas.
Eating at your casa is usually the best option for good food and good value and we recommend you allow 10 to 12cuc per day for dinner at the casas which is an average cost and depends on what you eat… ie if you want to eat lobster or steak it will be more expensive than if you eat chicken or pork. The ladies of the casas will discuss with you on a daily basis your options for dinner.
Casas operate on two people sharing a room. If you would like to have your own room please enquire about costs of a single supplement!
For more information we invite you to go directly to the Contact Us page, we will be more than happy to answer any questions or queries you may have.
RECOMMENDED AIRLINES
Virgin Atlantic runs the only direct flight from Gatwick twice a week throughout the year with extra flight at some high demand times.VISAS
Visas not needed for British Nationals, simply buy your Cuban Visitors card at the Information desk run by Virgin at Gatwick before you check in.
Price at time of writing … £15.00
The card is in two parts.
Fill in both parts and do not make mistakes or loose as will have to buy another.
Once in Cuba this card allows you 30 days!
If you plan to stay longer you will need to go to the nearest immigration office in Cuba and find out the price of renewal for another 30 days. Go to Banco Metropolitano and buy the required value in special stamps and take them your existing visitors card, plus proof of exit airline ticket, passport, health insurance papers and proof of your accommodation in Cuba.
Maxium stay in Cuba 60 days.
MONEY IN CUBA
Do not bring Travellers cheques or US dollars. US dollars get taxed 10% every transaction.
Euros or Stirling are good and do not get charged commission when exchanged at any Casa de Cambio
CDECA or Casa de Cambios are open every day and the exchange rate is the same all over the island and varies from day to day depending on strength of your currency.
Plastic can be used but can't be depended on out of the city centres and most shops restaurants and bars run on cash only basis, many small cities too still run on cash only payments for all the government workers and no cash machines exist in many rural cities and towns.