Delight in the rich kaleidoscope of Cuban countryside and city life aromas and flavours encompassed in this tour
No Tours Running
Starting the tour in old Havana with time to enjoy the old Colonial city centre, to feel and hear the rhythm of the changing face of Cuba. Learn the secrets of Tobacco production and cigars, Revolution and the islands Colonial past. Further west of Havana we travel to the province of Pinar del Rio, destination Vinales. The traditional countryside life of Vinales takes you back in time. Here the campasinos offer you a taste of tobacco & rum and a night of great dance music. A day trip relaxing on an uninhabited island surrounded by seas of turquoise and blue is just a taste of things to come.Travelling on to the southern coast, the old Spanish city of Trinidad never ceases to delight and enchant with its cobbled streets and back drop of the Sierra de Escambray mountains. Relax and swim in the turquoise waters of Cayo Iguana.  A day into the Altiplano Topes de Collantes where you'll enjoy a countryside hike to the Salto del Caburni waterfall and have opportunity to see and taste the "best coffee in the world" from bush to cup at the Casa del Cafe. Night life and music are a large part of daily entertainment and you can enjoy dancing at the Casa de la musica in the city centre beneath the stars in the open air, what could be more romantic!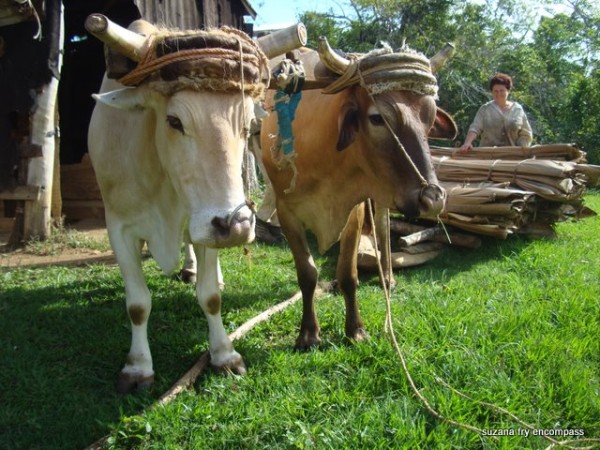 From the south coast we head once more to the north passing through Ciego de Avila, our destination is the much less visited rural town of Moron, famous for is huge Bronze Cockerel which crows every day at 6am and 6pm. Cuba is famous for its old American cars and we'll be enjoying one for the next two days discovering flora and fauna around the lagoons and cayos. If we are lucky you might even spot Cuba's national bird the Tocororo! A lazy day on Cayo Guillermos famour beach Playa Pilar with opportunities to dive and snorkel on the reef or simply relax on the white sands! Next stop is Camaguey one of the original seven settlements founded by Diego de Velázquez in 1514 and the third UNESCO World Heritage site we will visit on this tour! Camaguey's Pirate past has shaped its design and it's a fascinating and imaginative city full of surprises which continue to influence the many artists working here today! Bici taxis will help us tour this labyrinthine city centre. The holiday has flown by and its time to return to the hustle and bustle of the capital. You have a free day to explore on your own and do some shopping at the busy artesan markets. "Goodbye and farewell" can be sad, but over dinner in Habana Vieja sipping a Mojita or a Havana Club it will be a fiesta! All good things come to an end but you will leave hoping to return one day to this island lost in time.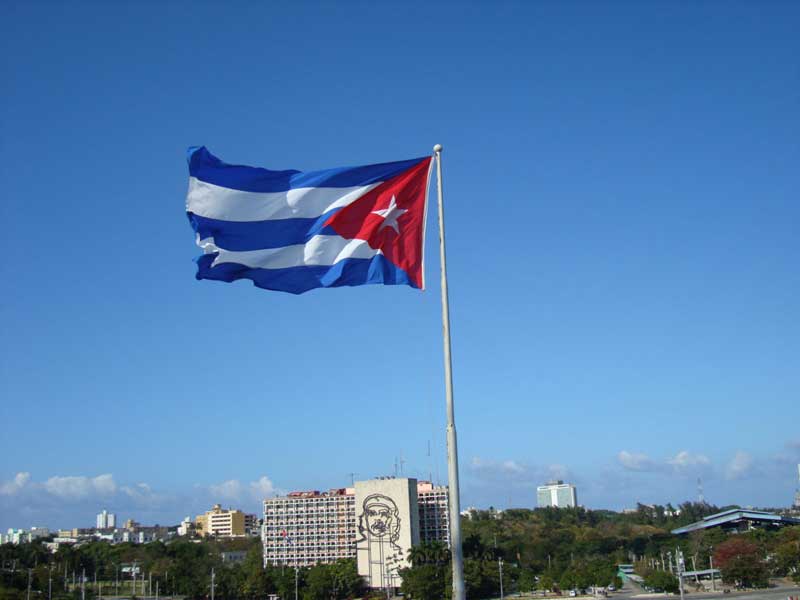 Whether it's your first time in Cuba or you are a frequent visitor you'll enjoy this tour designed to deliver a larger picture of this beautiful island. The landscape, the people, the flora and fauna, the sea and coral reef, the traditional industries, the ways of life that have seen such dramatic changes from virgin island "discovered" by Columbus in 1492 to 20th century revolution and beyond. How to survive and enjoy it! It's an opportunity hard to resist!!
TOUR ITINERARY "MI CUBITA"
JOINING / ARRIVAL DAY
Cuba's national tree, the Royal Palm, dots the landscape as you fly into Jose Marti International Airport on the outskirts of Havana City. Your tour leader or tour representative will be waiting** to take you from here by taxi to your accommodation in La Habana Vieja (Old Havana, which is a UNESCO World Heritage site)  Once all your questions have been answered and information exchanged there will time to enjoy a Cuba Libre or a Mojito and relax beneath the stars in one of the restored Colonial Plazas of the old Spanish city. Music seeps out of the many bars and restaurants onto the streets and the romance of the old city will charm you. You have arrived in a place like no other!!  Welcome to Havana, Cuba and to your encompass holiday, Mi Cubita!
Day 1, Havana
Breakfast in casa.
The first days of your tour will be spent exploring this diverse city. Havana Cuba! the name alone conjures up a montage of images from pre Revolutionary days of Hemmingway to Viva Fidel! and Long Live Cuba Libre, Rum, Cigars, Sugar, Coffee, Rumba, Salsa, old American cars a diverse mixture of colourful characters. Activities including Hop on Hop off Bus tour, entry to Museum of the Revolution or Museo de Bella Artes (Modern Art Gallery) and Tour of Partagas Cigar Factory. We will be staying in UNESCO world heritage centre of old Havana and there will be many opportunities to visit artists' workshops and handicraft markets at the end of your tour.
For dinner you can choose to eat out or at home in your casa particular. Havana is a city which oozes music and rhythm. Night life options include music, dancing, cabaret, perhaps a concert or ballet at the national theatre…. ask your tour leader for advice!! You are never far from a bar offering at times, little else than Havana Club rum!!!
Night 2 La Habana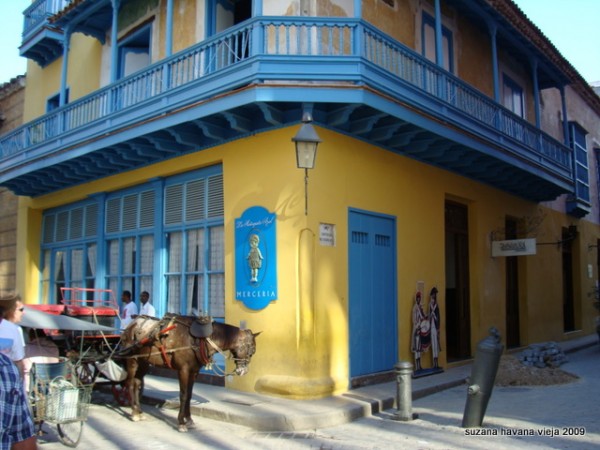 Day 2 Travel day to Vinales
Breakfast in Casa
Bus to Vinales aprox 3 hours
Check into casas
Walking tour of Vinales countryside or local Botanical Gardens. Island day tour.
It's an early start this morning as we leave Havana Vieja and catch our bus to Vinales. There will be a toilet stop on the way to stretch your legs and buy refreshments. The road to the west of Havana leads into the province of Pinar del Rio and Vinales lies at the heart of this region. Set among the tobacco plantations this area is a UNESCO world heritage "cultural landscape" and grows some of the best tobacco in the world. You will learn more about the agriculture during our afternoon's Countryside walking tour. The landscape is unique in Cuba for its limestone haystack hills "magotes". You can rent bicycles to explore on your own or visit the small but beautifully kept botanical garden. We'll have a day tour to Cayo Jutias with lunch included. Music and dancing is available every night in the Casa de la Musica "Polo Montanez" for a few pesos. Musicians often set up in the plaza in front of the church or in small bars playing ballads and other local favourites.
The selection of restaurants is rapidly growing in Vinales so you can eat out or organise dinner at your casa particular where your host will dish up her best or her favourite dish.
Day 3 Vinales
Breakfast in casas
Included activities day tour
Night 3 & 4 Vinales
Day 4 Travel day to Trinidad
Breakfast in casas
Bus to Trinidad aprox 6.5 hours
We retrace our steps somewhat towards Havana but this time by passing the capital, we are further south and head down to Trinidad via Cienfuegos. There will be some stops for toilets and refreshments on the way. The landscape is rural and mountainous as we arrive from the north with a clear view out onto the Caribbean coast. Trinidad is another UNESCO world heritage site and the town is preserved in its colonial style with cobbled streets and mainly single storied buildings with tiled roofs. It's an enchanting location in a sugar growing area of the island with views out to sea and the Escambrian Mountains rising behind. Trinidad is fast becoming a tourist magnet and combined with the new laws allowing Cubans self-employment there are plenty of additional activities on offer. Cycle hire, riding excursions, Spanish schools, dance academies, percussion courses, are springing up between an array of restaurants and paladars. The city has a rural charm that's hard to resist and we'll be based here with access to a variety of excursions.

A quaint train tour to the old sugar plantation "Valle de los Ingenios" is a lovely way to see the rural landscape. Unfortunately the old steam train has gone out of service and been replaced by a diesel engine that pulls the open sided carriages. First stop is at the old colonial house, you can climb the bell tower at "Manaca Iznaga" plantation or try a glass of guarapo otherwise know as sugarcane juice! A craft market has grown around the house and the ladies of Trinidad specialize in pulled thread work, table clothes and traditional shirts are abundant. Next stop takes us to a Hacienda where a limited choice of lunch is available, mainly chicken. The journey back arrives into Trinidad mid-afternoon with time left over for your own exploration.

We'll have a day exploring the Topes de Collantes national park, this is part of the Parque Antiplano in the Escambrian Mountains. It's a day to come face to face with nature and includes a 3km walk to a waterfall Salto de Caburni, with a guide who will point out some of the native and introduced species of flora and fauna. Bring your swim suits you might get wet! We will make a stop at the Casa del Cafe which is also a coffee plantation and grows varieties of delicious coffee; you'll see the whole process from coffee cherry to coffee cup mmmmm great taste too!
The variety of tours available from Trinidad means there are always option available if you are not interested in one of planned itinerary excursions.
So should a sun drenched island be your preference, relaxing and snorkelling, then on a tour to Cayo Iguana might fit the bill. A catamaran trip of 2 hours from the marina takes us out over tranquil sea to this idyllic sandy coral island inhabited only by Iguanas and Hutias. Lunch is included with a stop to snorkel from the boat and time to sunbathe or explore the island.
Night life in Trinidad is easy to find. There are nightly performances by local groups at the casa de la musica on the church steps and daily recitals of ballad style music at the casa de Trova. Ask your tour leader for advice about the cultural show, late night disco in "the cave" or you may just want to sip on a cocktail and star gaze!
Day 5, & 6 Trinidad
Breakfasts in casas.
Included activities with some time for own exploration.
Night 5, 6, & 7 Trinidad
Day 7 Travel day to Moron
Coffee in casa early then a breakfast "box" to eat on the bus.
Bus to Ciego de Avila 3 hours
Taxi to Moron.
This morning it's an early start as we catch our bus to Ciego de Avila; from here we'll take a taxi ride to our accommodation in the much less visited city of Moron. We arrive with plenty of time to explore on foot or take a ride in one of the many picturesque horse and carriages to Laguna de la Leche, (milk lagoon) due to its milky white colour! Moron is named after its counterpart in Andalucía by the original Spanish settlers and they erected their mascot at the foot of the clock tower at the entrance to the city. The "Gallo" of Moron crows daily at 6am and 6pm and is well worth the short walk to hear its declaration!
The city is located between two lagoons, just inland from the northern coast of the island. The area is rich in bird life and we'll be collected in a stylish old American car to go for a tour. First we'll visit an old sugar processing factory a "Central" now a museum, in the village of Patria. Luckily it has been preserved after being shut down in 2000. From here we go on to the Leguna Redonda and its mangroves boat tour, we'll be looking for native birds, orchids and other fauna & flora. Lunch is not included but great value "paquet menus" are available at our favourite typical Cuban rustic cuisine restaurant "Rancho Palma"
The population of Moron mainly work on Cayo Coco and Cayo Guillermo which the government is developing with "all inclusive tourist hotels" and we will have a day trip to relax and enjoy the beautiful beach of Playa Pilar on Cayo Guillermo the farthest of the Cayos. En route to Cayo Guillermo we'll be stopping at a small leguna where a local population of Flamingos come to feed. Binoculars are a good addition to your holiday accessories.
Diving on the reefs and snorkelling can be organised and needs to be booked a few days in advance, let your tour leader know and have your certification with you if you want to go for a dive!
Night life in Moron is low key and there are not many restaurants to choose from, your best option is eating at your casa or heading out in a taxi to a lake side restaurant. The casa de Trova is always busy with local dance enthusiasts and well worth a visit for a taste of local night life.
Day 8 & 9 Moron
Breakfast in casas
Included excursions
Night 8, 9 & 10 Moron
Day 10 Travel day to Camaguey
Breakfast in casa
Taxi to Ciego de Avila
Bus to Camaguey 2 hours
No early start today you can relax a little.
We'll take a Taxi to Ciego de Avila and Hotel Ciego de Avila where we catch our bus ride to Camaguey. Your tour leader will look after your bags at the Hotel reception and allow you time to explore the city of Ciego de Avila on foot, have some lunch or take some photos before we hit the road again.
Our bus trip today is less than 2 hours.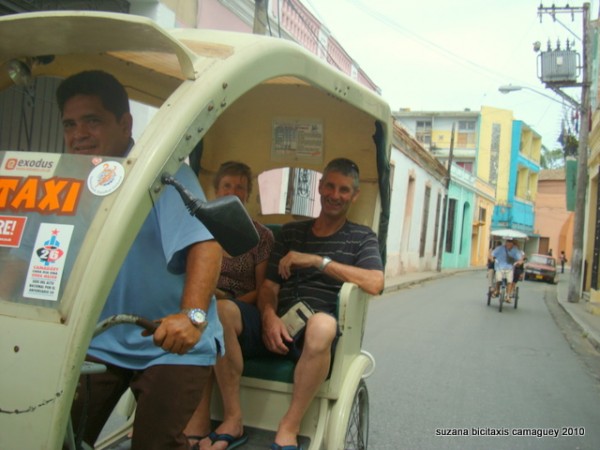 Camaguey is the 3rd UNESCO World Heritage Sites included in this tour and thanks to this award has been much improved and repainted to preserve the colonial feel of the city centre. It's one of the original seven settlements established in 1514 by the Spanish colonialists and has an intriguing pirate history that has shaped its street layouts. Our Bici taxi tour of Camaguey, will give a broader picture of the city's past and we'll visits the major post revolutionary landmarks as well as some of the contemporary artists' studios where you can view or buy their work.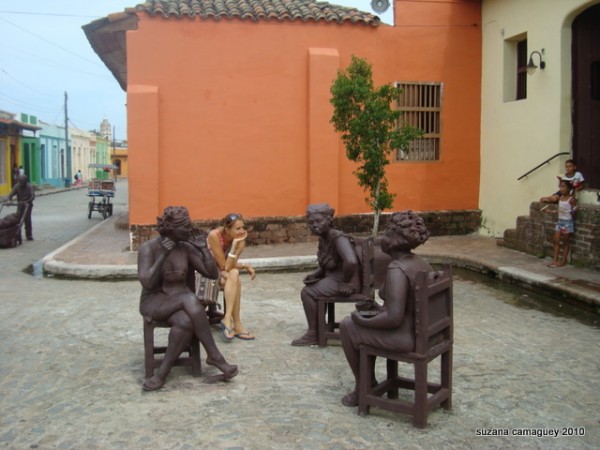 There will be time to relax and walk around, have another coffee or cocktail and watch the world go by.
Dinner can be in your casa or in town you choose and after dinner there is always music at the casa de musica or the casa de Trova…. if in doubt ask your tour leader for recommendations!
Day 11 Camaguey
Breakfast in casas
Included tours
Night 11 & 12 Camaguey
Day 12 Travel day to Havana
Breakfast in casas
Bus to Havana
This morning it's a lazy start for our return journey to Havana, so you have time for a walk in the city centre before we catch the bus or enjoy a late breakfast and chat with your host family.
Our bus trip today is a bit of a long haul but there will be stops on the way for lunch, toilets and refreshments.
Once back in Old Havana you'll feel you are on familiar home ground!
Our casa will be in the old city as before.
Day 13 Havana
Breakfast in casas
Free day to do your own thing!
Ask your tour leader for help with any directions or bookings to enjoy your day to the full!
For beach lovers who want a last dip in the sea, there is a regular tourist bus to Playas del Este about an hour an half out of town!
We'll meet up for cocktails, and say our goodbyes and make sure everyone has made arrangements for tomorrows departure!
Night 13 & 14 Havana
Day 14 Tour ends
Holidays come to an end, but memories are with you for ever!
You can breakfast at your casas at whatever time suits you and if you want help organising transport to the airport or extra accommodation in Cuba we will be delighted to help or advise!
Unless it's included in the price of your flight, don't forget to keep 25CUC for your airport tax and 30CUC for a taxi from the city centre. Journey time about 45 minutes.
Please read the destination dossier carefully before arriving in Cuba!
** Tour leader will be meeting direct flight Virgin Atlantic from Gatwick on day of arrival only, if you are arriving and need assistance on any other flight please let us know and we can advise on arrival procedures.
ADDITIONAL SERVICES CUBA
Hotel and casa bookings for extra nights.
Taxi and or Escort to Airport for departure flight.
Help with flight bookings and onward travel.
Bespoke tours.
Tailormade holidays
Special interest holidays
"WHATS INCLUDED"
14 nights Home Stays + Public/Private transport
14 breakfasts in casas.
ACCOMODATION CUBA – CASAS PARTICULARS
Private houses that have permission to rent out rooms to tourists a bit like a European Bed and Breakfast
Casas are government registered homes that can rent out a limited number of rooms to tourists. You will have a room and en suite or private bathroom.
You must show passport and Cuban visitors card and sign a registration document at each casa.
These homes are a most delightful way to stay in Cuba!
You will get to know the families and eat some home cooking and its a direct way to help people who would otherwise be surviving on a average Cuban salary of $40US per month.
These houses are of a above average quality as they have to meet certain criteria to be registered.
The government takes a huge percentage of the price of the rooms ( about 40%,) but this still gives the family money with which they can provide the extras you will see in their kitchens and furnishings in their homes.
Casas can earn a little extra money (un taxed by the government) by offering to provide meals, drinks and laundry. Your breakfast will be included in your tour price and will be served in your casas.
Eating at your casa is usually the best option for good food and good value and We recommend you allow 10 to 12cuc per day for dinner at the casas which is an average cost and depends on what you eat… ie if you want to eat lobster or steak it will be more expensive than if you eat chicken or pork. The ladies of the casas will discuss with you on a daily basis your options for dinner.
Casas operate on two people sharing a room. If you would like to have your own room please enquire about costs of a single supplement!
RECOMMENDED AIRLINES
Virgin Atlantic runs the only direct flight from Gatwick twice a week throughout the year with extra flight at some high demand times.
VISAS
Visas not needed for British Nationals, simply buy your Cuban Visitors card at the Information desk run by Virgin at Gatwick before you check in.
Price at time of writing … £15.00
The card is in two parts.
Fill in both parts and do not make mistakes or loose as will have to buy another.
Once in Cuba this card allows you 30 days!
If you plan to stay longer you will need to go to the nearest immigration office in Cuba and find out the price of renewal for another 30 days. Go to Banco Metropolitano and buy the required value in special stamps and take them your existing visitors card, plus proof of exit airline ticket, passport, health insurance papers and proof of your accommodation in Cuba.
Maxium stay in Cuba 60 days.
MONEY IN CUBA
Do not bring Travellers cheques or US dollars. US dollars get taxed 10% every transaction.
Euros or Stirling are good and do not get charged commission when exchanged at any Casa de Cambio
CDECA or Casa de Cambios are open every day and the exchange rate is the same all over the island and varies from day to day depending on strength of your currency.
Plastic can be used but can't be depended on out of the city centres and most shops restaurants and bars run on cash only basis, many small cities too still run on cash only payments for all the government workers and no cash machines exist in many rural cities and towns.
For more information we invite you to go directly to the Contact Us page, we will be more than happy to answer any questions or queries you may have.