Hotel Ambos Mundos, Havana, Cuba.
Ambos Mundos is situated on the corner of Obispo and Marcaderes in the very heart of old Havana. Famous for its celebrated literary clients the most famous being Ernest Hemmingway.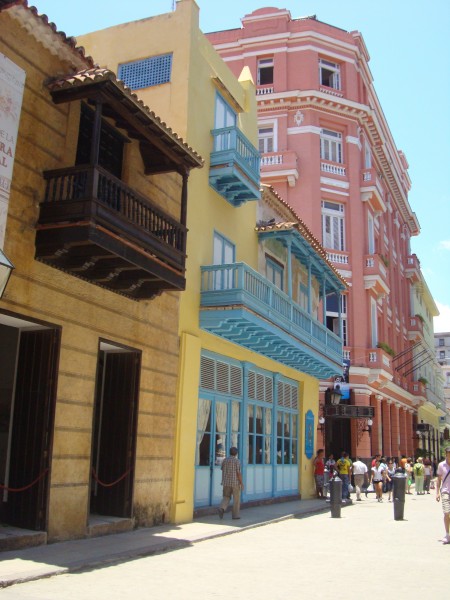 The hotel has dedicated his favourite room no 511 to his memory and literary legacy and it is now a visitors attraction and museum. Hemmingway has many ghosts in Cuba where he lived off and on from 1941 until his last visit in 1960 just after the successful communist revolution of 1959. Hemmingway loved fishing and bought a house in Havana "Finca Vigia" where he lived and wrote and kept his yacht "Pilar". He used Pilar for fishing expeditions and during the war for hunting down German submarines!! He wrote some of his most famous books here in Havana the most popular being "The Old Man And The Sea" inspired by his fishing trips with a local fisherman who appears in the book as Santiago. Cubans are very proud of their connections with 1954 "Nobel Prize for Literature" winner American born Hemmingway, and many of his old haunts are similarly restored and dedicated to his memory! Ambos Mundos hotel has been restored in recent years and newly painted a rich raspberry red making it unmistakable and a popular night spot for a quiet drink in the ground floor piano bar. It maintains original features such as the lovely 1930's lift that takes you to one of the best located roof terrace bar/restaurants in the old city. With views to the lighthouse over the bay and closer to hand the colonial building of Plaza de Armas and the old fortifications. What could be more romantic than sipping a Mojita and enjoying the view? Listening to the distant rhythms and the sea breeze, maybe even reading a copy of one of Hemmingway's' classics, the magic of Havana will be sure to capture your heart!