Countryside walk in Vinales, Cuba
Sandra meets us in front of the church. She is wearing an old straw hat, a long sleeved checkered shirt, jeans and Wellington boots, ready to take us into the "campo" for a two hour countryside walk in her home ground. She is also wearing a big smile which is her typical expression! "Have you got repellent, sunscreen, sun hats, water, cameras?" she asks!
"Yes!" and off we go, following our cheerful guide who begins to tell us all about the people and agriculture of the area, what the crops are that grow here, how to identify them, and very importantly, how to eat or use them. We are delighted!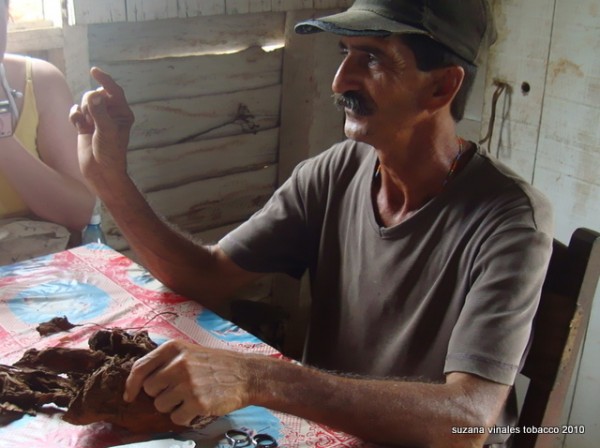 Vinales has the best Tobacco growing land in the whole island, and we are to visit a family who have cultivated Tobacco here for generations. We go inside the traditional, thatched, wooden, tobacco drying barn, and learn some of the secrets of the curing process. The farmer invites us into his house to watch him make one of his own Cigars, of which he smokes five a day! The state allows the farmers to keep sufficient Tobacco for their own use, but the rest is taken to the factories where the popular brands smoked by the rich and famous worldwide are created; Romeo y Julieta, Punch, Monticristo, Bolivar, Partagas, La Flor de Cano, El Rey del Mundo, Cohiba, Hoyo de Monterrey and many more. For Cuba today, Cigars represent hard currency and once labelled and boxed, transform into a "smoke" far out of reach of any Cubans budget!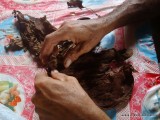 Having all sampled the "home grown", we feel in need of some fresh air and our walk continues along the country tracks. We chat with Sandra about her life, family, religion, education, health, happiness, aspirations all the usual topics of conversation the world over. She is more than happy to answer all our questions and give her opinions.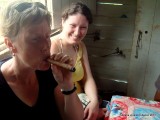 The sun beats down and we drip with sweat! We are called into another small house and offered a selection of fruit and home grown coffee. We consume hungrily in the shade and relax under the trees. The only sounds, apart from our own voices, are those of the birds and the bees. The pace of life is slow. The temperature is rising. Reluctantly we head off, back into town, leaving a small tip for our host who is very pleased! "Gracias y adios" and Sandra leads us back into the centre of this enchanting, colonial, country town.
Back where we started we are hot thirsty and happy! We have glimpsed into the simple homes of two typical families and tasted some new and interesting flavours. We have been made to feel very welcome too!
To find out how to enjoy this excursion yourself visit our Tours page and book your place on either "Cuban Snapshot" or "Mi Cubita".